FBAR Displacement at Fs
Model Description
Film bulk acoustic resonators (FBARs) are a widely known technology used for RF filter applications. They are typically operated at 1.5 GHz and over due to their excellent performance in terms of high quality factor and low insertion loss.
The 2D FBAR model provides a simple starting structure consisting of a piezoelectric active layer (Aluminum Nitride), Molybdenum electrodes and silicon substrate material at the sides of the air cavity.

Model Schematic
Parametric Variables
The base model allows the following design variables to be adjusted. By default electrode thickness and electrode aspect ratio are set as design variables to be swept (indicated by *).
| Parametric Variable | Description | Default Value |
| --- | --- | --- |
| fwid* | Width of Frame Recess | 2 µm |
| fthk* | Thickness of Frame Recess | 200 nm |
| aln_thk* | Thickness of AlN piezoelectric layer | 800 nm |
| width | Width of cavity | 100 µm |
| depth | Depth of device | 200 µm |
| si_thk | Thickness of Silicon substrate | 2 µm |
| si_wid | Width of Silicon substrate | 10 µm |
| elec_bot | Bottom electrode thickness | 400 nm |
| elec_tot | Top electrode thickness | 400 nm |
Outputs
A wide range of outputs can be generated, including:
Electrical Impedance
Quality Factor
Mode Shapes (Harmonic Analysis)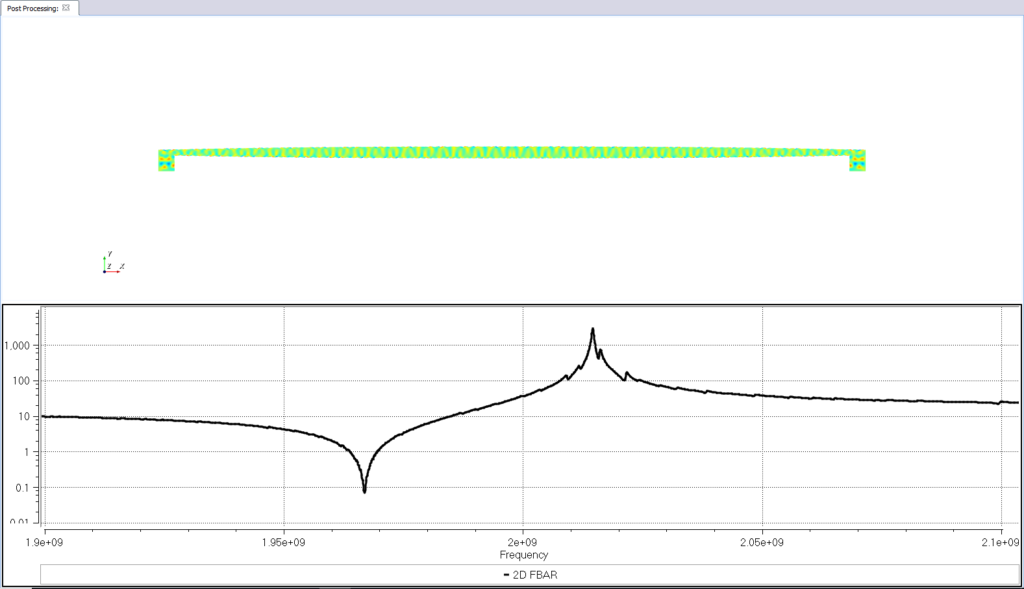 Example Post Processor Outputs
Runtime Statistics
| | |
| --- | --- |
| Model size | 30712 elements |
| Solve Time | 225 secs (2 CPUS) |
| Core Hours | 0.12 |
| Memory Usage | 30 MB |
| Recommended CPU Configuration | 2 CPU |
Files
The following input files are required to run this model, click here to download the input files: